Created
January 2016
Industry
Social Network
Calendar
iOS
App
Project Duties
Illustration
Card & Invite Content Libraries
Eventure In App Illustrations
Social Media Marketing
Blog Asset Creation
Digital Advertising
Media Buying
Eventure Wallet In App Illustrations
Objectives
Illustrate a card and invitation library for the user-created events within the app
Social media awareness through Instagram, Facebook, Pinterest, Twitter, and Linked-In
In app illustrations for Eventure app events
Eventure Wallet app gift card art and illustrations for in app gift card images
Part 1: Cards & Invites Creation
The first step we took in this process was to work with the developers to make a library of cards and invitations, backend library of information on the new cards and invitations, equalling 500+ creative assets.
Invitations design for print, web, and inside the app.
Cards were included as well for birthdays, holidays, and over 30 other genres.
Once Eventure's cards were organized we started on keyword research, tags, description, categories for cards & invitations, search engine optimization, displaying templates & resolutions, trend analysis, and of course sitting with the development team until it was perfect.
Part 2: In App Illustrations for Eventure & Eventure Wallet
With user experience being the driving force behind any new app being adopted, Eventure was in need of illustrations for it's iOS app calendar events. We did a round of 12 illustrations that communicated the types of events that a user can create.
12 In App Event Illustrations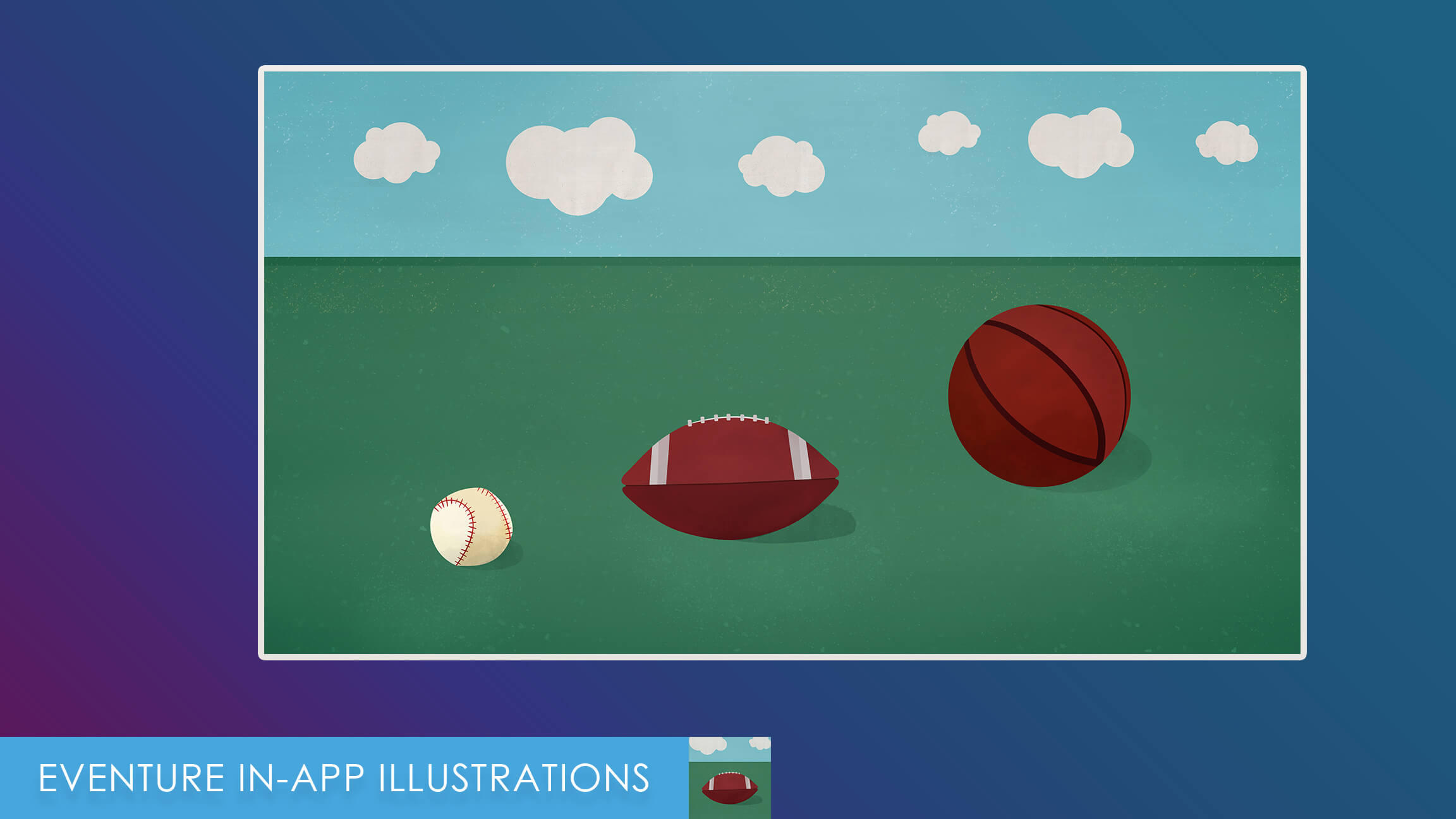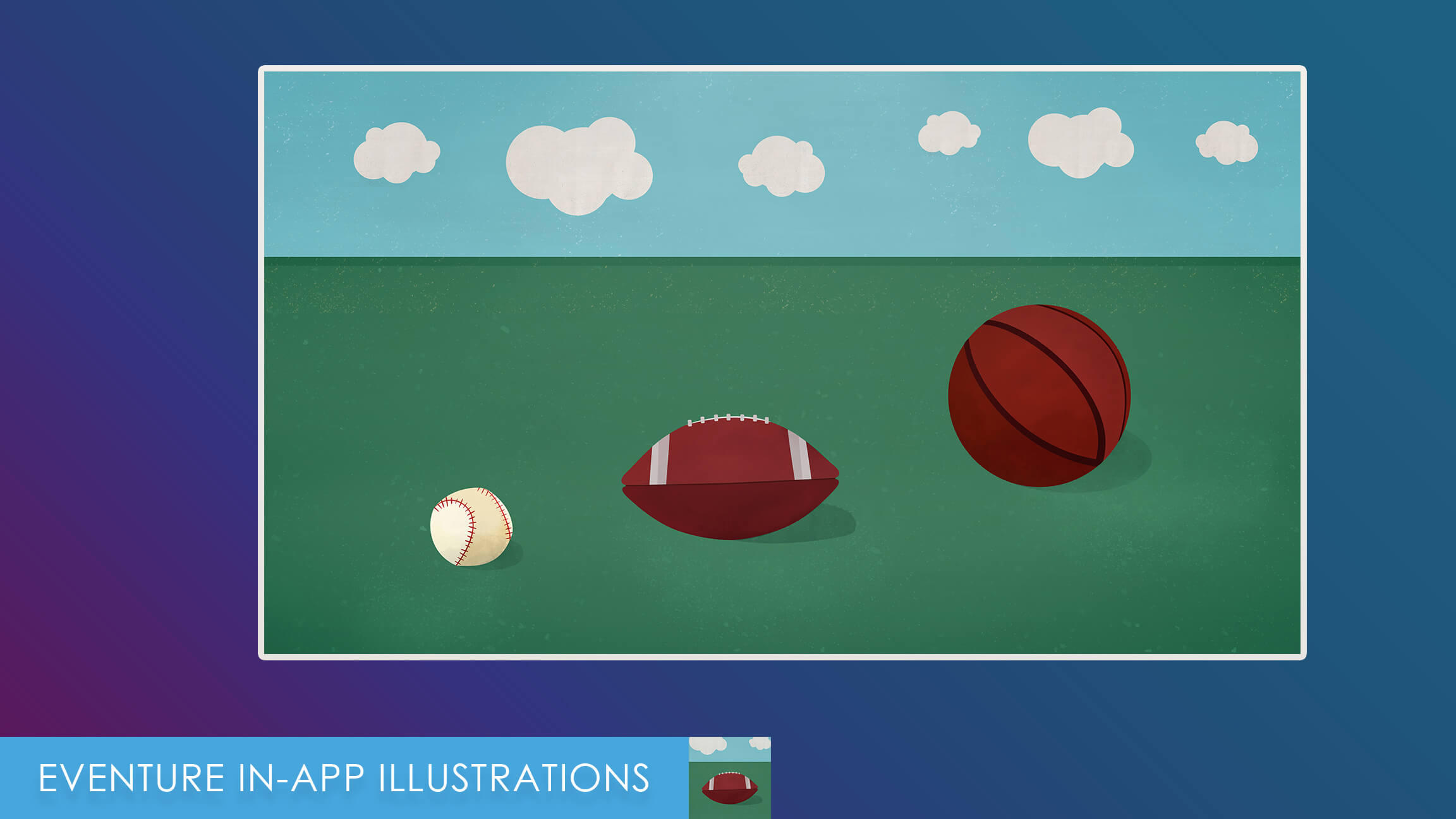 After completing the Eventure events illustrations we moved on to the Eventure Wallet gift card images. Numbering over 250+ we had our hands full. We made singular and simple images for each gift card. After exporting for all devices and displays, we uploaded the assets to the serve. Below are our favorite gift card fronts.
Eventure Wallet Gift Card Images and Illustrations
Part 3: Eventure Social Media / Inbound Marketing
There was a time where just having a site would be enough to drive user to you. However, with the vast amount of web content that is alive today the old way just simply won't work. Driving traffic to a website now requires both a wider and deeper content application.
When Eventure came to The Four asking to help promote their new card creation software we knew it would take more than a snappy website. They needed a serious inbound marketing program.
The Four Design met with Eventure and discussed specific techniques to use for inbound marketing, and what each would provide for a large Return On Investment. At the end of this conversation Eventure gave us full control to begin inbound marketing campaign.
Spoiler: It worked.
The Four built up Eventure's social media, blog presence, and established an Etsy store as means to increase their overall traffic. Our techniques were rooted in comprehensive SEO research to develop the right copy, tags, hashtags, keywords, and artwork that would up Eventure's adoption rate and user downloads. With the addition of Instagram and other social media ads, we were able to tell the everyday story of Eventure while constantly improving growth.
While we love to trust our gut, The Four also like to know our gut is working. This is why for projects like Eventure's are always driven by analytics and user traffic to inform our decisions. The magic of marketing is rooted in numbers and fine tuning, but we wouldn't have it any other way.
Eventure stands at just over two thousand followers and 144K+ likes on Facebook and has currently launched on the app store.